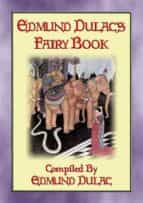 EDMUND DULACS FAIRY BOOK - 15 ILLUSTRATED CHILDREN'S STORIES

EBOOK
Formato:

EPUB - SIN DRM

Editorial:

ABELA PUBLISHING

Lengua:

INGLÉS

Año edición:

2018

ISBN:

9788827558478
In the 19thC there were three master compilers and publishers of children's Fairy Tales – Edmund Dulac, Andrew Lang and the Grimm Bothers. This is a collection of folk and fairy tales from Belgium, France, England, Japan, Italy, Russia and Serbia compiled by Edmund Dulac.

Herein you will finds the stories of: SNEGOROTCHKA – Russian, THE BURIED MOON – English, WHITE CAROLINE AND BLACK CAROLINE – Flemish, THE SEVEN CONQUERORS OF THE QUEEN OF THE MISSISSIPPI – Belgian, THE SERPENT PRINCE – Italian, THE HIND OF THE WOOD – French, IVAN AND THE CHESTNUT HORSE – Russian, THE QUEEN OF THE MANY-COLOURED BEDCHAMBER – Irish, THE BLUE BIRD – French, BASHTCHELIK (OR, REAL STEEL), Serbian, THE FRIAR AND THE BOY- English, THE GREEN SERPENT – French, URASHIMA TARO – Japanese, THE FIRE BIRD – Russian, THE STORY OF THE BIRD FENG – Chinese.

In every country there is a place where good wishes come true: where the poor and the lonely are rich in castles and friends: and where sorrowful folk are happy. Here you will hear the birds singing and children laughing, all day long. The trees are full of blossoms and fruit. The sky is always blue, the grass green and soft. Under the trees dwell the fairies, and against the blue sky you will sometimes see the sheen of angels' wings as the flit by. It is from this place that these children's stories originate.
So, we invite you to curl up with this unique sliver of Fairy culture not seen in print for over a century; and immerse yourself in the tales and fables of yesteryear.
----------------------------
TAGS: fairy tales, folklore, myths, legends, children's stories, children's stories, bygone era, fairydom, fairy land, classic stories, children's bedtime stories, snegorotchka, russian, buried moon, english, white caroline, black caroline, flemish, seven conquerors, queen, Mississippi, belgian, serpent prince, italian, hind of the wood, french, ivan, chestnut horse, russian, many-coloured bedchamber, irish, blue bird, bashtchelik, real steel, serbian, friar and the boy, green serpent, urashima taro, japanese, fire bird, story of the bird feng, chinese
Inseparables, comprar "EDMUND DULACS FAIRY BOOK - 15 ILLUSTRATED CHILDREN'S STORIES (EBOOK)" junto con:
Datos del producto
Editorial:

ABELA PUBLISHING

Lengua:

INGLÉS

ISBN:

9788827558478

Año edición:

2018

Formato:

EPUB - SIN DRM
Resumen
In the 19thC there were three master compilers and publishers of children's Fairy Tales – Edmund Dulac, Andrew Lang and the Grimm Bothers. This is a collection of folk and fairy tales from Belgium, France, England, Japan, Italy, Russia and Serbia compiled by Edmund Dulac.

Herein you will finds the stories of: SNEGOROTCHKA – Russian, THE BURIED MOON – English, WHITE CAROLINE AND BLACK CAROLINE – Flemish, THE SEVEN CONQUERORS OF THE QUEEN OF THE MISSISSIPPI – Belgian, THE SERPENT PRINCE – Italian, THE HIND OF THE WOOD – French, IVAN AND THE CHESTNUT HORSE – Russian, THE QUEEN OF THE MANY-COLOURED BEDCHAMBER – Irish, THE BLUE BIRD – French, BASHTCHELIK (OR, REAL STEEL), Serbian, THE FRIAR AND THE BOY- English, THE GREEN SERPENT – French, URASHIMA TARO – Japanese, THE FIRE BIRD – Russian, THE STORY OF THE BIRD FENG – Chinese.

In every country there is a place where good wishes come true: where the poor and the lonely are rich in castles and friends: and where sorrowful folk are happy. Here you will hear the birds singing and children laughing, all day long. The trees are full of blossoms and fruit. The sky is always blue, the grass green and soft. Under the trees dwell the fairies, and against the blue sky you will sometimes see the sheen of angels' wings as the flit by. It is from this place that these children's stories originate.
So, we invite you to curl up with this unique sliver of Fairy culture not seen in print for over a century; and immerse yourself in the tales and fables of yesteryear.
----------------------------
TAGS: fairy tales, folklore, myths, legends, children's stories, children's stories, bygone era, fairydom, fairy land, classic stories, children's bedtime stories, snegorotchka, russian, buried moon, english, white caroline, black caroline, flemish, seven conquerors, queen, Mississippi, belgian, serpent prince, italian, hind of the wood, french, ivan, chestnut horse, russian, many-coloured bedchamber, irish, blue bird, bashtchelik, real steel, serbian, friar and the boy, green serpent, urashima taro, japanese, fire bird, story of the bird feng, chinese
Valoración Media
Todavía no ha sido valorado
Recomendaciones usuarios
0

%

No ha sido todavía recomendado
Otros productos relacionados
Opiniones "EDMUND DULACS FAIRY BOOK - 15 ILLUSTRATED CHILDREN'S STORIES (EBOOK)"
No hay opiniones para este producto