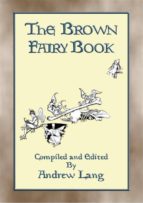 THE BROWN FAIRY BOOK - 32 ILLUSTRATED FOLK AND FAIRY TALES

EBOOK
Formato:

EPUB - SIN DRM

Editorial:

ABELA PUBLISHING

Lengua:

INGLÉS

Año edición:

2017

ISBN:

9788827521205
This is the 10th Fairy Books of Many Colours compiled and edited by Andrew Lang. The stories in all the books are borrowed from many countries – Australia, North America, Southern Africa, New Caledonia located in the southwest Pacific Ocean, Persia, Northern Europe, India, South America and beyond.

However much these nations differ about trifles, they all agree in liking fairy tales. Herein you will find 32 illustrated fairy tales like What the Rose did to the Cypress, The Bunyip, The Story of the Yara, The Cunning Hare, The Turtle and his Bride, The Sacred Milk of Koumongoé, The Wicked Wolverine, The Elf Maiden, Asmund and Signy and many, many more.

The stories are further enhanced by 8 coloured plates, 22 full-page pen and ink drawings and 21 In Text sketches by H. J. Ford.
This book contains many references to fairies. As to whether there are really any fairies or not, is a difficult question. Andrew Lang never saw any himself, but he knew several people who have seen them-in the Highlands - and heard their music. So, if ever you are near Nether Lochaber, go to the Fairy Hill, and you may hear the music your-self, but you must go on a fine day……

TABLE of CONTENTS
What the Rose did to the Cypress
Ball-Carrier and the Bad One
How Ball-Carrier finished his Task
The Bunyip
Father Grumbler
The Story of the Yara
The Cunning Hare
The Turtle and his Bride
How Geirald the Coward was Punished
Hábogi
How the Little Brother set Free his Big Brothers
The Sacred Milk of Koumongoé
The Wicked Wolverine
The Husband of the Rat's Daughter
The Mermaid and the Boy
Pivi and Kabo
The Elf Maiden
How Some Wild Animals became Tame Ones
Fortune and the Wood-Cutter
The Enchanted Head
The Sister of the Sun
The Prince and the Three Fates
The Fox and the Lapp
Kisa the Cat
The Lion and the Cat
Which was the Foolishest?
Asmund and Signy
Rübezahl
Story of the King who would be Stronger than Fate
Story of Wali Dâd the Simple-hearted
Tale of a Tortoise and of a Mischievous Monkey
The Knights of the Fish
Inseparables, comprar "THE BROWN FAIRY BOOK - 32 ILLUSTRATED FOLK AND FAIRY TALES (EBOOK)" junto con:
Datos del producto
Editorial:

ABELA PUBLISHING

Lengua:

INGLÉS

ISBN:

9788827521205

Año edición:

2017

Formato:

EPUB - SIN DRM
Resumen
This is the 10th Fairy Books of Many Colours compiled and edited by Andrew Lang. The stories in all the books are borrowed from many countries – Australia, North America, Southern Africa, New Caledonia located in the southwest Pacific Ocean, Persia, Northern Europe, India, South America and beyond.

However much these nations differ about trifles, they all agree in liking fairy tales. Herein you will find 32 illustrated fairy tales like What the Rose did to the Cypress, The Bunyip, The Story of the Yara, The Cunning Hare, The Turtle and his Bride, The Sacred Milk of Koumongoé, The Wicked Wolverine, The Elf Maiden, Asmund and Signy and many, many more.

The stories are further enhanced by 8 coloured plates, 22 full-page pen and ink drawings and 21 In Text sketches by H. J. Ford.
This book contains many references to fairies. As to whether there are really any fairies or not, is a difficult question. Andrew Lang never saw any himself, but he knew several people who have seen them-in the Highlands - and heard their music. So, if ever you are near Nether Lochaber, go to the Fairy Hill, and you may hear the music your-self, but you must go on a fine day……

TABLE of CONTENTS
What the Rose did to the Cypress
Ball-Carrier and the Bad One
How Ball-Carrier finished his Task
The Bunyip
Father Grumbler
The Story of the Yara
The Cunning Hare
The Turtle and his Bride
How Geirald the Coward was Punished
Hábogi
How the Little Brother set Free his Big Brothers
The Sacred Milk of Koumongoé
The Wicked Wolverine
The Husband of the Rat's Daughter
The Mermaid and the Boy
Pivi and Kabo
The Elf Maiden
How Some Wild Animals became Tame Ones
Fortune and the Wood-Cutter
The Enchanted Head
The Sister of the Sun
The Prince and the Three Fates
The Fox and the Lapp
Kisa the Cat
The Lion and the Cat
Which was the Foolishest?
Asmund and Signy
Rübezahl
Story of the King who would be Stronger than Fate
Story of Wali Dâd the Simple-hearted
Tale of a Tortoise and of a Mischievous Monkey
The Knights of the Fish
Valoración Media
Todavía no ha sido valorado
Recomendaciones usuarios
0

%

No ha sido todavía recomendado
Otros productos relacionados
Opiniones "THE BROWN FAIRY BOOK - 32 ILLUSTRATED FOLK AND FAIRY TALES (EBOOK)"
No hay opiniones para este producto