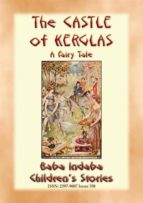 THE CASTLE OF KERGLAS - A CHILDREN'S FAIRY TALE

EBOOK
Formato:

EPUB - SIN DRM

Editorial:

ABELA PUBLISHING

Lengua:

INGLÉS

Año edición:

2017

ISBN:

9788826446288
ISSN: 2397-9607 Issue 358
In this 358th issue of the Baba Indaba's Children's Stories series, Baba Indaba narrates the Fairy Tale "THE CASTLE OF KERGLAS".
A long time ago and far, far away, Peronnik was a poor idiot who belonged to nobody, and he would have died of starvation if it had not been for the kindness of the village people, who gave him food whenever he chose to ask for it. And as for a bed, when night came, and he grew sleepy, he looked about for a heap of straw, and making a hole in it, crept in, like a lizard. Idiot though he was, he was never unhappy, but always thanked gratefully those who fed him, and sometimes would stop for a little and sing to them. For he could imitate a lark so well, that no one knew which was Peronnik and which was the bird.
He had been wandering in a forest one day for several hours, and when evening approached, he began to feel very hungry. Luckily, just at that place the trees grew thinner, and he could see a small farmhouse a little way off. Peronnik went straight towards it, and found the farmer's wife standing at the door holding in her hands the large bowl out of which her children had eaten their supper.
'I am hungry, will you give me something to eat?' asked the boy.
'If you can find anything here, you are welcome to it,' answered she, and, indeed, there was not much left, as everybody's spoon had dipped in. But Peronnik ate what was there with a hearty appetite, and thought that he had never tasted better food.
'It is made of the finest flour and mixed with the richest milk and stirred by the best cook in all the countryside,' and though he said it to himself, the woman heard him.
'Poor innocent,' she murmured, 'he does not know what he is saying, but I will cut him a slice of that new wheaten loaf,' and so she did, and Peronnik ate up every crumb, and declared that nobody less than the bishop's baker could have baked it. This flattered the farmer's wife so much that she gave him some butter to spread on it, and Peronnik was still eating it on the doorstep when an armed knight rode up.
'Can you tell me the way to the castle of Kerglas?' asked he.
'To Kerglas? are you really going to Kerglas?' cried the woman, turning pale.
'Yes; and in order to get there I have come from a country so far off that it has taken me three months' hard riding to travel as far as this.'
And so, we learn of the quest of Peronnik. But why does he need to get to the Castle of Kerglas? What could his reasons be? But with all the warnings, will he make it and will he find what he seeks and what happened along the way you ask…? Well many things happened, some strange and some serious. To find the answers to these questions, and others you may have, you will have to download and read this story to find out!

Baba Indaba is a fictitious Zulu storyteller who narrates children's stories from around the world. Baba Indaba translates as "Father of Stories".

Each issue also has a "WHERE IN THE WORLD - LOOK IT UP" section, where young readers are challenged to look up a place on a map somewhere in the world. The place, town or city is relevant to the story. HINT - use Google maps.

33% of the profit from the sale of this book will be donated to charities.
INCLUDES LINKS TO DOWNLOAD 8 FREE STORIES

Inseparables, comprar "THE CASTLE OF KERGLAS - A CHILDREN'S FAIRY TALE (EBOOK)" junto con:
Datos del producto
Editorial:

ABELA PUBLISHING

Lengua:

INGLÉS

ISBN:

9788826446288

Año edición:

2017

Formato:

EPUB - SIN DRM
Resumen
ISSN: 2397-9607 Issue 358
In this 358th issue of the Baba Indaba's Children's Stories series, Baba Indaba narrates the Fairy Tale "THE CASTLE OF KERGLAS".
A long time ago and far, far away, Peronnik was a poor idiot who belonged to nobody, and he would have died of starvation if it had not been for the kindness of the village people, who gave him food whenever he chose to ask for it. And as for a bed, when night came, and he grew sleepy, he looked about for a heap of straw, and making a hole in it, crept in, like a lizard. Idiot though he was, he was never unhappy, but always thanked gratefully those who fed him, and sometimes would stop for a little and sing to them. For he could imitate a lark so well, that no one knew which was Peronnik and which was the bird.
He had been wandering in a forest one day for several hours, and when evening approached, he began to feel very hungry. Luckily, just at that place the trees grew thinner, and he could see a small farmhouse a little way off. Peronnik went straight towards it, and found the farmer's wife standing at the door holding in her hands the large bowl out of which her children had eaten their supper.
'I am hungry, will you give me something to eat?' asked the boy.
'If you can find anything here, you are welcome to it,' answered she, and, indeed, there was not much left, as everybody's spoon had dipped in. But Peronnik ate what was there with a hearty appetite, and thought that he had never tasted better food.
'It is made of the finest flour and mixed with the richest milk and stirred by the best cook in all the countryside,' and though he said it to himself, the woman heard him.
'Poor innocent,' she murmured, 'he does not know what he is saying, but I will cut him a slice of that new wheaten loaf,' and so she did, and Peronnik ate up every crumb, and declared that nobody less than the bishop's baker could have baked it. This flattered the farmer's wife so much that she gave him some butter to spread on it, and Peronnik was still eating it on the doorstep when an armed knight rode up.
'Can you tell me the way to the castle of Kerglas?' asked he.
'To Kerglas? are you really going to Kerglas?' cried the woman, turning pale.
'Yes; and in order to get there I have come from a country so far off that it has taken me three months' hard riding to travel as far as this.'
And so, we learn of the quest of Peronnik. But why does he need to get to the Castle of Kerglas? What could his reasons be? But with all the warnings, will he make it and will he find what he seeks and what happened along the way you ask…? Well many things happened, some strange and some serious. To find the answers to these questions, and others you may have, you will have to download and read this story to find out!

Baba Indaba is a fictitious Zulu storyteller who narrates children's stories from around the world. Baba Indaba translates as "Father of Stories".

Each issue also has a "WHERE IN THE WORLD - LOOK IT UP" section, where young readers are challenged to look up a place on a map somewhere in the world. The place, town or city is relevant to the story. HINT - use Google maps.

33% of the profit from the sale of this book will be donated to charities.
INCLUDES LINKS TO DOWNLOAD 8 FREE STORIES

Valoración Media
Todavía no ha sido valorado
Recomendaciones usuarios
0

%

No ha sido todavía recomendado
Otros productos relacionados
Opiniones "THE CASTLE OF KERGLAS - A CHILDREN'S FAIRY TALE (EBOOK)"
No hay opiniones para este producto