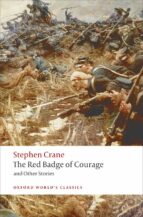 THE RED BADGE OF COURAGE (OXFORD WORLD S CLASSICS)
(En papel)
, 2008
Nº de páginas:

320 págs.

Encuadernación:

Tapa blanda

Editorial:

OXFORD UNIVERSITY PRESS

Lengua:

INGLÉS

ISBN:

9780199552542
Oxford offers the most generously annotated edition of The Red Badge of Courage (1895), a vivid psychological account of a young man's experience fighting in the American Civil War based on Crane's reading of popular descriptions of battle. This volume also includes the short stories 'The Open Boat'(1898), 'The Monster'(1899), and 'The Blue Hotel'. The editors explore Crane's work from a fresh critical perspective, focusing on his role as an experimental writer, his modernist legacy, and his social as well as literary revisionism.


Like the Carroll volume above, this edition of the seasoned veteran provides a new twist. Crane's Badge was originally serialized in the New York Press in 1894, a year before the story was published in novel form. This volume offers both the slightly different serial version and the finished work. Though every library no doubt has numerous copies of Red Badge, academic and public libraries supporting American literature curricula should pop for this one, too, especially at the price.
Copyright 1999 Reed Business Information, Inc.


Novel of the American Civil War by Stephen Crane, published in 1895 and considered to be his masterwork for its perceptive depiction of warfare and of the psychological turmoil of the soldier. Crane had had no experience of war when he wrote the novel, which he based partly on a popular anthology, Battles and Leaders of the Civil War. The Red Badge of Courage has been called the first modern war novel because, uniquely for its time, it tells of the experience of war from the point of view of an ordinary soldier. Henry Fleming is eager to demonstrate his patriotism in a glorious battle, but when the slaughter starts, he is overwhelmed with fear and flees the battlefield. Ironically, he receives his 'red badge of courage' when he is slightly wounded by being struck on the head by a deserter. He witnesses a friend's gruesome death and becomes enraged at the injustice of war. The courage of common soldiers and the agonies of death cure him of his romantic notions. He returns to his regiment and continues to fight on with true courage and without illusions. -- The Merriam-Webster Encyclopedia of Literature


The Red Badge of Courage has long been considered the first great 'modern&
Inseparables, comprar "THE RED BADGE OF COURAGE (OXFORD WORLD S CLASSICS)" junto con:
Datos del libro
Nº de páginas:

320 págs.

Editorial:

OXFORD UNIVERSITY PRESS

Lengua:

INGLÉS

Encuadernación:

Tapa blanda

ISBN:

9780199552542

Año edición:

2008

Plaza de edición:

GB
Resumen
Oxford offers the most generously annotated edition of The Red Badge of Courage (1895), a vivid psychological account of a young man's experience fighting in the American Civil War based on Crane's reading of popular descriptions of battle. This volume also includes the short stories 'The Open Boat'(1898), 'The Monster'(1899), and 'The Blue Hotel'. The editors explore Crane's work from a fresh critical perspective, focusing on his role as an experimental writer, his modernist legacy, and his social as well as literary revisionism.


Like the Carroll volume above, this edition of the seasoned veteran provides a new twist. Crane's Badge was originally serialized in the New York Press in 1894, a year before the story was published in novel form. This volume offers both the slightly different serial version and the finished work. Though every library no doubt has numerous copies of Red Badge, academic and public libraries supporting American literature curricula should pop for this one, too, especially at the price.
Copyright 1999 Reed Business Information, Inc.


Novel of the American Civil War by Stephen Crane, published in 1895 and considered to be his masterwork for its perceptive depiction of warfare and of the psychological turmoil of the soldier. Crane had had no experience of war when he wrote the novel, which he based partly on a popular anthology, Battles and Leaders of the Civil War. The Red Badge of Courage has been called the first modern war novel because, uniquely for its time, it tells of the experience of war from the point of view of an ordinary soldier. Henry Fleming is eager to demonstrate his patriotism in a glorious battle, but when the slaughter starts, he is overwhelmed with fear and flees the battlefield. Ironically, he receives his 'red badge of courage' when he is slightly wounded by being struck on the head by a deserter. He witnesses a friend's gruesome death and becomes enraged at the injustice of war. The courage of common soldiers and the agonies of death cure him of his romantic notions. He returns to his regiment and continues to fight on with true courage and without illusions. -- The Merriam-Webster Encyclopedia of Literature


The Red Badge of Courage has long been considered the first great 'modern&
Valoración Media
Todavía no ha sido valorado
Recomendaciones usuarios
0

%

No ha sido todavía recomendado
Opiniones "THE RED BADGE OF COURAGE (OXFORD WORLD S CLASSICS)"
No hay opiniones para este producto