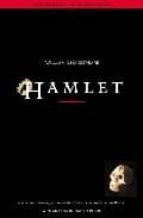 HAMLET
(En papel)
Nº de páginas:

288 págs.

Encuadernación:

Tapa blanda bolsillo

Editorial:

YALE UNIVERSITY PRESS

Lengua:

INGLÉS

ISBN:

9780300101058
Selected as an outstanding book by University Press Books for Public and Secondary School Libraries
One of the most frequently read and performed of all stage works, Shakespeare's Hamlet is unsurpassed in its complexity and richness. Now the first fully annotated version of Hamlet makes the play completely accessible to readers in the twenty-first century. It has been carefully assembled with students, teachers, and the general reader in mind.
Eminent linguist and translator Burton Raffel offers generous help with vocabulary and usage of Elizabethan English, pronunciation, prosody, and alternative readings of phrases and lines. His on-page annotations provide readers with all the tools they need to comprehend the play and begin to explore its many possible interpretations. This version of Hamlet is unparalleled for its thoroughness and adherence to sound linguistic principles.
In his Introduction, Raffel offers important background on the origins and previous versions of the Hamlet story, along with an analysis of the characters Hamlet and Ophelia. And in a concluding essay, Harold Bloom meditates on the originality of Shakespeare's achievement. The book also includes a careful selection of items for "Further Reading."
Burton Raffel is Distinguished Professor of Arts and Humanities Emeritus and professor of English emeritus, University of Louisiana at Lafayette. Among his many edited and translated publications are Poems and Prose from the Old English, Cligès, Lancelot, Perceval, Erec and Enide, and Yvain, all published by Yale University Press. Harold Bloom, Sterling Professor of Humanities at Yale University and Berg Professor of English at New York University, is the author of many books, including The Western Canon, Shakespeare: The Invention of the Human, and Where Shall Wisdom Be Found?
"The volumes in this series will enrich any library that stocks editions of individual Shakespearean plays. [Included are] introductory essays and on-page annotations that aid the reader in vocabulary, usage of Elizabethan English, pronunciation, alternative readings of phrases and lines, and prosody, i.e. metric structure or accents . . . . Especially helpful are definitions of common words that have changed meanings over the past four hundred years . . . ."—Judith McGowan (American Assoc
8.30€
8.30€
Inseparables, comprar "HAMLET" junto con:
Datos del libro
Nº de páginas:

288 págs.

Editorial:

YALE UNIVERSITY PRESS

Lengua:

INGLÉS

Encuadernación:

Tapa blanda bolsillo

ISBN:

9780300101058

Año edición:

1900

Plaza de edición:

REINO UNIDO
Resumen del libro
Selected as an outstanding book by University Press Books for Public and Secondary School Libraries
One of the most frequently read and performed of all stage works, Shakespeare's Hamlet is unsurpassed in its complexity and richness. Now the first fully annotated version of Hamlet makes the play completely accessible to readers in the twenty-first century. It has been carefully assembled with students, teachers, and the general reader in mind.
Eminent linguist and translator Burton Raffel offers generous help with vocabulary and usage of Elizabethan English, pronunciation, prosody, and alternative readings of phrases and lines. His on-page annotations provide readers with all the tools they need to comprehend the play and begin to explore its many possible interpretations. This version of Hamlet is unparalleled for its thoroughness and adherence to sound linguistic principles.
In his Introduction, Raffel offers important background on the origins and previous versions of the Hamlet story, along with an analysis of the characters Hamlet and Ophelia. And in a concluding essay, Harold Bloom meditates on the originality of Shakespeare's achievement. The book also includes a careful selection of items for "Further Reading."
Burton Raffel is Distinguished Professor of Arts and Humanities Emeritus and professor of English emeritus, University of Louisiana at Lafayette. Among his many edited and translated publications are Poems and Prose from the Old English, Cligès, Lancelot, Perceval, Erec and Enide, and Yvain, all published by Yale University Press. Harold Bloom, Sterling Professor of Humanities at Yale University and Berg Professor of English at New York University, is the author of many books, including The Western Canon, Shakespeare: The Invention of the Human, and Where Shall Wisdom Be Found?
"The volumes in this series will enrich any library that stocks editions of individual Shakespearean plays. [Included are] introductory essays and on-page annotations that aid the reader in vocabulary, usage of Elizabethan English, pronunciation, alternative readings of phrases and lines, and prosody, i.e. metric structure or accents . . . . Especially helpful are definitions of common words that have changed meanings over the past four hundred years . . . ."—Judith McGowan (American Assoc
Los que compraron este libro también compraron
Valoración Media
Todavía no ha sido valorado
Recomendaciones usuarios
0

%

No ha sido todavía recomendado
Opiniones de los lectores sobre "HAMLET"
No hay opiniones para este producto
Estantes en los que está guardado
Tina / Nati - General (486)